Milagro CBD Oil Franchise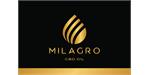 Milagro CBD Oil - Health And Beauty Franchise
Milagro CBD Oil is a pure and best-tasting premium CBD oil available on the market.
Watch Video
Finance requirements

Minimum Investment:

€1,000

Areas Available

UK, US, South Africa and Australia.
Profile
MILAGRO CBD OIL International Franchises Available Now
MILAGRO CBD OIL franchises are now available. Find out everything you need to know, including the cost to start this franchise in minutes here!

ABOUT THE COMPANY
Milagro CBD Oil is a pure and best-tasting premium CBD oil available on the market, and this is the chance to partner with us – the No.1 CBD global franchise!
Milagro CBD Oil is a full spectrum CBD oil created from the best organically grown European hemp. Our distilled, winterised and separated smooth CBD oil is a powerful dietary supplement with a range of health benefits.
At Milagro, we are passionate about researching and creating innovative CBD products that change people's lives around the world.
Milagro has invested in extensive research to ensure every customer understands how CBD oil works, along with its benefits and various practices. We are also the first-ever CBD oil company to market a Home CBD Test Kit.
Milagro focuses on two features – Premium and Quality. We work exclusively with ecological farmers. We test all our materials and oils for heavy metals, toxins, impurities, etc., and we also conduct regular HPLC tests.
WHY CHOOSE MILAGRO CBD OIL?
COVID-19 has impacted many things, but not Milagro CBD – we are moving 2,000,000 products at any given time. DHL allows us to maintain a constant supply to all 12 countries where we are based.
We work with people worldwide, and with our top-line business coaching, we have helped people with literally no business experience start-up and flourish their very own businesses!
We also have an online website that we manage for you, giving you immediate access to all our knowledge and experience.
Europe's population is more than twice the US and Canada's size combined, suggesting a considerably more extensive market. The public is finding favour with CBD, making cannabis one of the world's most profitable industries for investors.
We are the number one ranked CBD franchise worldwide due to our considerable experience and expertise.
WHAT DOES MILAGRO CBD OIL DO?
Join today for a better tomorrow.
Milagro offers a healthy lifestyle choice, additional income potential, and a chance to give back. The more business you achieve, the more people are benefitting from CBD!
HOME SELLER
Invest £890 and get £2,225 in stock.
WEBMASTER
Invest £2,650 and get a fully built e-commerce site and £8,050 in stock.
VENDOR MASTER LICENSE
Invest £3,561 and get a multimedia machine and £7,590 in stock.
WHOLESALER
Invest £4,451 and get £8,903 in stock and a fully built website or invest £8,903 and get £22,258 in stock, a fully built website and five stores signed up by the Milagro marketing team.
HEMP SEED MERCHANT
Investment required: £8,903.
AGRICULTURE PROGRAM (REQUIRES A MIN. OF 100 ACRES)
Investment required: £26,710.
STOREFRONT
Investment required: £22,250.
MASTER LICENCE
£500,000 per county with a guaranteed return of 2.5 million (level of stock given with the position) training and development support 24/7
BENEFITS
Organically grown hemp – no chemicals or pesticides.
Milagro CBD Oil contains no harmful substances.
Milagro CBD Oil is regularly cannabinoid tested (HPLC & GC)
We fully inform all clients and candidates upfront, as our products speak for themselves.
Milagro multiple-level marketing ensures you will connect with clients.
Guaranteed free gateway sign-up for CBD products with bank approval.
Guaranteed sales via our affiliate program.
With Milagro – the highest quality CBD on the market – you will make a massive ROI while helping people, making this profitable and rewarding!
FRANCHISEE REQUIREMENTS
We ask for a complete profile review before you apply.
Serious applications only.
It would be best if you had a WhatsApp a/c (for Media & Training purposes).
Videos
09 March 2021

What motivations underline human behaviour. This series examines the genesis of spiritual thought of nations including China, Japan & India. This philosophical journey looks at the doctrines of Confucianism, Shinto, Hinduism, Buddhism, Judaism and Islam.